Chaba Cabana Beach Resort
Nestled in the northern cove of the beautiful Chaweng Beach, the newly refurbished Chaba Cabana Beach Resort is the ideal destination for a peaceful and relaxing beach escape. Combining sleek and modern design with the rustic island charm, retire to the lofty comforts of your own private sanctuary or soak up the sun with our stunning panoramic ocean view. The vibrant city center is also easily accessible to help you make the most of your Samui getaway.
Join us at Chaba Cabana Resort Today. A delightful 4 Star Retreat featuring the very best of Thai hospitality.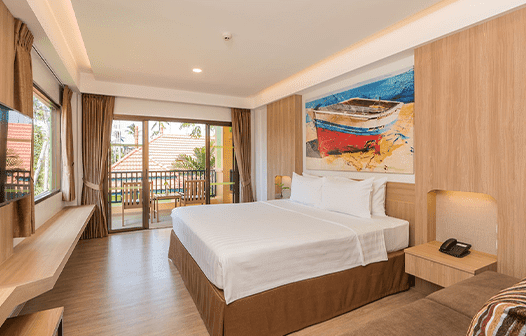 Deluxe Building
A freshly refurbished setting with modern Cabana vibrancy in our low-rise buildings.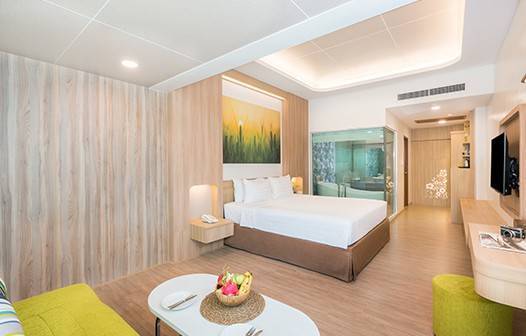 Deluxe Villa
The ideal sanctuary for your next luxurious beach escapade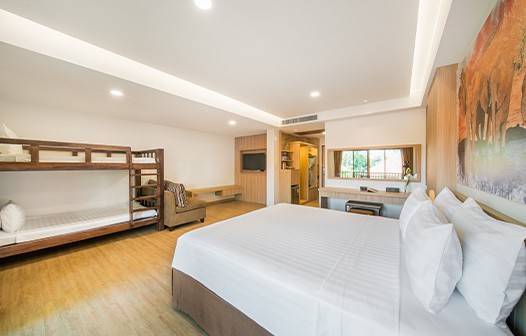 Family Room
The ideal family retreat in a lofty living space of 45 sqm.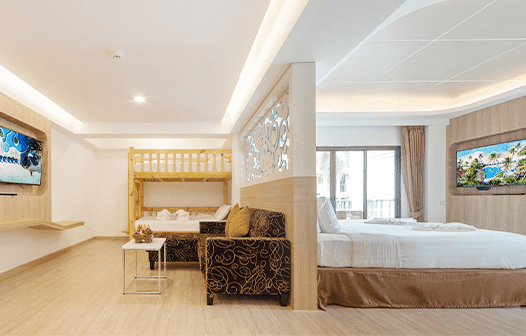 Family Suite
A comfortable 65 sqm oasis for family with magnificent views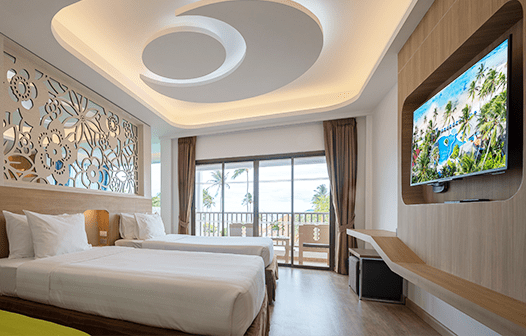 Two bedroom Family
An inspirational two-bedroom family suite with 67 sqm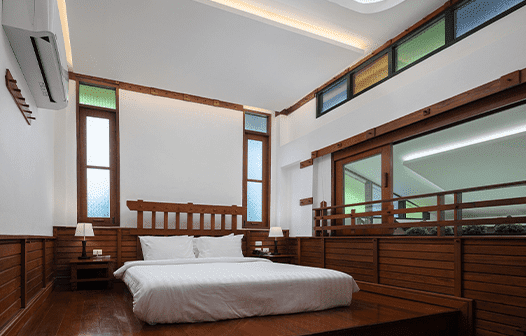 Ocean View Pool Access Villa
The pinnacle of 'Oceanic Bliss' in a commodious space of 115sqm.
Limited Time Offer
Family Room (2 Adults + 2 Children)
Stay period : Now – 23 Dec 2023
Start 5,500 THB/Night
More Detail
Guest Reviews
Davejanet332
Date of stay: August 2019
Stayed for 11 days in July ,stunning beachfront location with a brilliant pool area with no shortage of sunbeds and umbrellas.friendly helpful staff always willing to please.Our room was on the 3rd floor spotlessly clean and spacious,clean towels. Water etc every day only downside not enough storage could have done with a few drawers. would love to stay here again
Bali_kupang
Date of stay: July 2019
We went there as a small family. The villa we got was really near to the beach, pool and restaurant. Very convenient. Overall, it's a very nice place and staff were friendly too ...if got chance, we will come back again!
Demashque
Date of stay: July 2019
This resort is located in a nice part of the island, not too far from the airport. It has an amazing pool overlooking the beach. Our room was cozy and has the garden and partial beach view. Service was amazing, and the food was ok in my standards. Walking distance from shops, restaurants, and night live.
CaraRavo
Date of stay: July 2019
What can I say, simple fantastic from start to finish. From the welcome at reception, to the pool staff and the cleaners. My boyfriend and I stayed at the Chaba cabana for 2 weeks in June, this was our first time visiting Thailand and simply won't be our last. The people on reception were great in recommending places to visit, the cleaners in the room did a great job leaving us with clean towels and beach towels every day, the room was always spotless. The staff around the pool bar/breakfast bar genuinely couldn't have done more for you, they wanted to help with everything. Drinks are a little pricey around the bar, but happy hour is definitely worth taking full advantage of! Will definitely be returning to this fabulous place!
Ozz73
Date of stay: July 2019
Loved everything about the chaba from the friendly staff to the awesome beach front pool. Rooms were fine perfect location for families quiet but not too far from main centre of chaweng definitely be coming back kids fell in love with kho samui and the chaba
diddi2
Date of stay: March 2019
Chaba Cabana was a wonderful experience for first time travellers to Thailand. All the staff were so friendly, they could not do enough for us. We spent a lot of time around the bar and pool area and the bar staff always waited on you, always prompt, friendly and happy. The grounds were immaculate. The room was spacious and always clean. On arrival we were greeted with a cool drink and towel. Our bags were carried to our room and explained everything in our room in detail. A fruit basket was also left for us on our first day complimentary. The location was excellent, we walked most places. I would definitely stay again if we went back to Koh Samui.
bali_kupang
Date of stay: January 2019
Again thanks for the hospitality. We really enjoy our stayed. Love the views, food and also drinks. The room is big and clean. The Thai massage on the beach side is great(i love thai massage). Friendly and helpful staff and we would definitely come back.
Family Lucas
Date of stay: January 2019
Went to this resort a couple of times for dinner. First visit was automatically seated and given insect repellant - thought that was very funny as no one had ever offered before. Lovely friendly staff and meals were very nice and at a reasonable price. View down beach to other resorts and coast made for a good night out. Beach was also kept clean
Jo_Birty
Date of stay: January 2019
Myself, partner and son (8 years old) stayed here from 11.01.19 - 24.01.19 and it was amazing, the staff were friendly and extremely helpful (especially the pool staff). The rooms were authentic looking, spacious and clean. The pool area was lovely and overlooking the sea (high tide so couldn't see much of the beach). Breakfast was nice but would have been nice to see more Thai options at breakfast. The staff were all lovely with my son, playing football and pool with him. Nothing was too much for them. Would definitely recommend to others.